Non-citizens voting in Ohio? A report from Ohio SOS Jon Husted
Sat, Mar 14th, 2015 11:01:03 am
Ohio SOS Jon Husted this week released a report on non-U.S. citizens voting in Ohio's elections. This report was a follow up to his December 2013 report in which, at that time, he had discovered in cross-checking that  291 non-citizens registered to vote in Ohio, 17 of whom actually cast a ballot in the 2012 Presidential Election.  With this new report, the number has grown to 436 non-citizens that had registered to vote in Ohio's elections, 44 of whom actually cast a ballot. The SOS has turned the information over for further investigation and prosecution. With the Obama Administrations's executive action that will issue social security numbers and photo ID's to 5 million illegals, SOS Jon Husted has urged the administration to provide a real-time database to track these individuals to keep them off of Ohio's voting roles, for it is illegal for them to cast a vote as non-citizens. Those individuals who do so can face prosecution and deportation.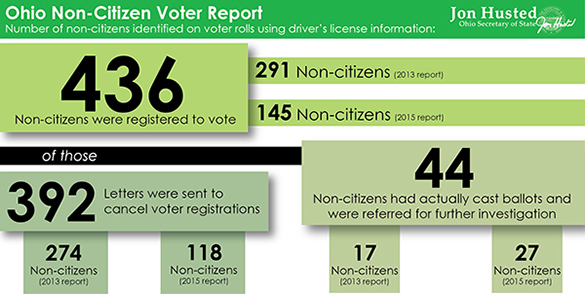 FOR IMMEDIATE RELEASE
Thu, Mar 5th, 2015 1:14:42 pm
FOR IMMEDIATE RELEASE March 3, 2015
OCA Commends Speaker Boehner for His Invite to Prime Minister Benjamin Netanyahu to Address Congress
Today in a joint session of Congress, Israeli Prime Minister Benjamin Netanyahu addressed a joint session of Congress after receiving an invite from the Speaker of the U.S. House, Congressman John Boehner of Ohio's 8th District. Members from both the House of Representatives and the U.S. Senate, along with other dignitaries and guests, filled the House chamber to hear the greatly anticipated speech of PM Netanyahu. With just a few weeks from the next Israeli election, and in the midst of the Obama Administration negotiating with Iran on a nuclear deal, the Prime Minister addressed the urgency of why Iran should not be given the opportunity to acquire nuclear weapons. He spoke disctinctively as to the history of the Iranian regime in its support of terrorist activities and acts of aggression against the United States, Israel, and our allies. He spoke of the urgency and the direct threat that a nuclear Iran would present to the State of Israel, to the Middle East, and to Iran's neighbors, as well as the West. The Prime Minister's speech was supported with frequent applause. The support for Israel was evident in the U.S. House chamber today.
OCA President Chris Long stated, "When the world is looking for a voice of clarity and leadership addressing the present crisis in the Middle East, Prime Minister Benjamin Netanyahu's speech was a refreshing change from the double-speak and disconnect we have heard from the Administration in recent weeks. Islamic radicalism and terror are realities that Christian minorities face every day in the Middle East. To hear a leader address the problem head-on was a welcome change."
###
Contact Chris Long 330-887-1922
Pro-Life Movement Mourns Loss of Legendary Leader
Sat, Feb 21st, 2015 1:21:45 pm
Pro-Life Movement Mourns Loss of Legendary Leader
In Memoriam: Dr. John Willke
We are saddened to learn of the passing of Dr. John Willke, a giant in the pro-life movement. It was my distinct pleasure to meet him and to discuss pro-life issues of importance with him over the past number of years. He has left an indelible impression upon many. His life and legacy for the cause of life will live on for many years to come. He has gone home to his eternal reward into the welcoming arms of Jesus to hear these words, "Well done thou good and faithful servant." Our thoughts and prayers are with the entire Willke family. May they be comforted in the fact that so many love and appreciate their father and grandfather. - OCA President Chris Long
The following is a press release from our good friends at Cincinnati Right to Life
Tomorrow there will be a vote on the House floor on HB 7, a Common Core opt-out measure titled "student safe harbor"
Tue, Feb 10th, 2015 11:24:25 pm
Tomorrow there will be a vote on the House floor on HB 7, a Common Core opt-out measure titled "student safe harbor". Below is an article about an award-winning language arts teacher from Elyria Ohio who was nationally recognized who is quitting the teaching profession over Common Core standards. Recently, I was in a meeting in Wadsworth where another award-winning 8th grade history teacher was speaking with Dr. Schramm of the Ashland Univ Ashbrook Center, who stated she saw what Common Core was doing to her math and language art teacher colleagues, and that if Ohio was to adopt Common Core standards for social studies, she will quit the profession. WE MUST STOP COMMON CORE. John Kasich and Jeb Bush are all for it. I say we send them packing and support candidates who support local control of school districts, not federalized curriculum.     Click here to read the full article!
Common Core will decimate the teaching ranks. Those who support it should have considered that before they pushed this folly on the Ohio educational system. OCA and its partners are committed to the abolishment of the Common Core standards. Tomorrow begins that legislative action with HB 7 on the House floor for a vote. It allows for students to opt out of the testing. It is a small first step to getting rid of this monstrosity that is strangling our educational system in Ohio. It is tragic that we are losing good teachers over Common Core. 
War on Christmas is a War on Religious Liberties
Sat, Jan 3rd, 2015 12:48:51 pm
The following opinion piece was posted in the Cleveland Plain Dealer on December 21, 2014
The war on Christmas is underway once again this year as the American Atheists have launched a multi-city billboard campaign attacking Christmas and religious faith. Atheist legal groups such as the Freedom From Religion Foundation, the ACLU, and People for the American Way believe it is open season to attack public expression of faith with their relentless lawsuits and letter campaigns of intimidation to city officials, school districts and public institutions. Continuing the tradition of their predecessors in earlier decades starting in the '60's, they won't rest until every expression of religious content is wiped from the public square, whether it's a football team that prays before the game, a city council that seeks divine guidance, or a Ten Commandments marker on public property. Even peaceful nativity scenes are targeted. Their motivation? It is not tolerance, but intolerance of those who hold a religious belief that is contrary to their atheist views. CLICK HERE FOR FULL ARTICLE!
Disappointingly the Heartbeat bill fails in the Ohio House.
Wed, Dec 10th, 2014 11:47:34 pm
FOR IMMEDIATE RELEASE                                                                                              DECEMBER 10, 2014
The Ohio Christian Alliance supports State Representative Matt Lynch (76th District) and those members of the Ohio General Assembly who are introducing the Heartbeat Bill Amendment. In the final days of the lame duck session of the 130th General Assembly, an effort is underway to advance the Heartbeat Bill legislation, endorsed by numerous pro-life organizations throughout Ohio.  The Ohio Christian Alliance supports the Heartbeat Bill to protect the unborn through legislation. We commend Rep. Lynch and those co-sponsors who are supporting this effort. We urge the General Assembly to pass the amendment during this General Assembly before the close of legislative business.
Contact Chris Long 330-887-1922
News Index and Archives