The War on Coal and what it will mean for your utility costs
Sun, Nov 29th, 2015 9:33:53 pm
Roundtable discussion on the War on Coal with Bob Murray, President and CEO of Murray Energy, Jim Martin of the 60 Plus Foundation, and Congressman Bill Johnson of Ohio's 6th District.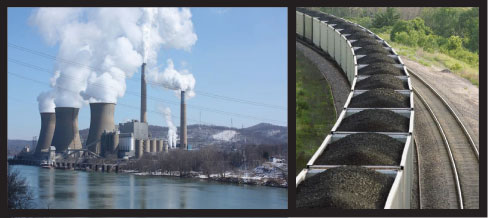 In this program, we discuss the Obama EPA regulations and the devastating impact it is having on the coal industry across the nation, and the impact it will have on rising utility costs for seniors and families on fixed incomes. Mr. Murray is fighting a courageous battle in the courts to save good paying coal jobs and fighting for coal, a cheap, reliable source of energy that has provided reliable electricity for Ohio in its homes and businesses over the years. All of that is being threatened by the reckless Obama Administration's intent on eliminating the coal industry. Congressman Bill Johnson gives an update on what Congress intends to do to stop the assault by the Obama Administration. Here's what you can do to help. Forward this program link on to your friends and family.
Protect Ohio's Vote Constitutional Amendment for Voter Photo ID Requirement
Tue, Sep 22nd, 2015 12:15:53 pm
Protect Ohio's Vote Constitutional Amendment for Voter Photo ID Requirement
Constitutional Amendment to Adopt Voter Photo ID Requirement for Ohio launched today at the Ohio Liberty Coalition meeting in Marysville, Ohio.
Protect Ohio's Vote PAC Committee today announced and began circulating petitions to adopt voter photo ID requirement for Ohio. Chris Long made the following statement, " Voter fraud is a growing problem in Ohio. After a 15 month citizens'-led audit of BOE's across the State of Ohio that discovered numerous irregularities, suspicious activity, inaccuracies in reporting, and outright voter fraud, the citizens committee highly recommended voter photo ID requirement as an initiative to combat the growing voter fraud problem in the battle ground State of Ohio."
FRUSTRATED with the inability of the Ohio Legislature over the past two sessions to pass legislation that would require voter photo ID requirement for Ohio that polls at 70% favorability in Ohio and nationally, this citiizens-led initiative has launced today to place the measure on the balllot sometime in 2016.
Petitions are available upon request.  Please phone 330-887-1922 and we will mail you out a petition. 
Kim Davis, Kentucky County Clerk, Arrested by Order of Federal Judge for Not Issuing a Homosexual Marriage License.
Sat, Sep 19th, 2015 9:17:52 am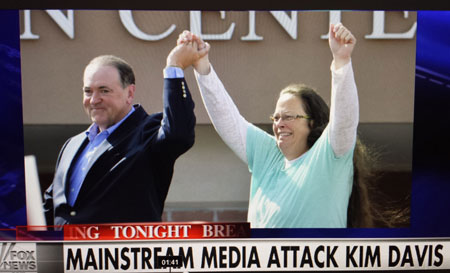 Kim Davis was jailed by a federal judge's order for not issuing marriage licenses. Her office, by her directive, had ceased to issue any marriage license since the SCOTUS decision. The federal courts ordered Mrs. Davis's office to issue homosexual marriage licenses. When she refused on religious grounds, federal Justice David Bunning had her arrested and held without bond. OCA President Chris Long made the following statement, "We stand with Mrs. Davis as she has invoked her religious constitutional rights. To be arrested and held without bond is beyond ridiculous." Mat Staver of Liberty Counsel, who is representing Kim Davis, made the following statement,
"If this country has come to this point where a judge jails someone like Kim Davis for their religious convictions – then we have lost our religious liberty," and called the ruling "outrageous."
The Pastors' Policy Conference was a huge success with over 330 in attendance.
Fri, Sep 4th, 2015 9:59:48 pm
The Pastors' Policy Conference was a huge success with over 330 in attendance. Pastors came from all over the state to hear from legal experts on religious liberty. Attorney David Gibbs of The Christian Law Association advised pastors of what they and their churches can do to help protect them from potential legal challenges by homosexual activists. Pastors heard from inspiring speakers – Bill Federer of The American Minute, Rafael Cruz and Larry Tomczak. Presidential hopeful Rick Santorum stopped by and gave an inspirational speech on defending religious liberty. Attorney General Mike DeWine spoke on religious liberty and took some questions from the pastors. Also addressing the pastors were State Treasurer Josh Mandel, State Auditor Dave Yost, Congressman Jim Jordan, State Rep. Bill Patmon, and other special guests.  More events to come.....  Click here for event photos.
Planned Parenthood Nationwide Protest Saturday, August 22nd
Thu, Aug 20th, 2015 12:33:05 pm
Planned Parenthood Nationwide Protest Saturday, August 22nd
Listen to this week's News in Focus Broadcast with Mark Harrington about the Planned Parenthood Videos
Mark Harrington, director of Created Equal, discusses the undercover investigative videos revealing the behind the scenes grotesque piecemeal selling of human body parts. OCA President Chris Long discusses with Mark how these videos have shocked the nation, revealing the inner workings behind the scenes by top officials at Planned Parenthood. The cavalier attitude demonstrated by top officials at Planned Parenthood while discussing the acquiring and selling of body parts to the highest bidder has sickened the nation. In response, a nationwide protest of Planned Parenthood facilities is scheduled for Saturday, August 22nd in over 300 cities across the country
Join the protest on Saturday at Planned Parenthood facilities across the country in over 300 cities. Click here to find a protest in your area.
Ohio Christian Alliance & Josh Mandel Present Marco Rubio Friday and Saturday
Tue, Aug 18th, 2015 12:27:02 pm
Ohio Christian Alliance & Josh Mandel Present Marco Rubio
OPPORUNITY TO MEET THE CANDIDATE
Ohio Christian Alliance will provide opportunities for you to meet Presidential Candidates as they come through our state. Here are two locations to meet and greet with Senator Marco Rubio. The events are free and open to the public but you must RSVP by clicking on the links and registering. Space is limited.
Join us in welcoming Senator Marco Rubio to Cleveland and Columbus this weekend! Spend your morning with Senator Rubio as he shares his conservative values and vision for a New American Century right here in the Buckeye State!
Here are the details:
When: Friday, August 21 - 9:30 AM to 11 AM
Where: Yours Truly, Valley View
TO REGISTER FOR THE VALLY VIEW EVENT CLICK HERE
When: Saturday, August 22 - 9 AM to 11 AM
Where: Buckeye Hall of Fame Grill, Grandview Yard
TO REGISTER FOR THE COLUMBUS EVENT AT THE BUCKEYE HALL OF FAME GRILL CLICK HERE
Be sure to register ASAP--you do not want to miss this opportunity to see Marco in our backyard!
THESE EVENTS ARE FOR INFORMATIONAL PURPOSES ONLY AND NOT TO BE INTERPRETED AS AN ENDORSEMENT OF A CANDIDATE OR CAMPAIGN COMMITTEE.
News Index and Archives