Mon, Mar 27th, 2017 9:26:00 am


Ohio Pastor Protection Act (H.B. 36) - Stalled in Committee. Your Calls and Emails are Needed. Urge Your Representative to Pass the Bill Now!
---
Thu, Mar 23rd, 2017 10:17:00 pm


Roundtable on Coal's Comeback
---
Sat, Mar 18th, 2017 12:47:00 pm


Legislative Update from the Ohio Statehouse
---
Tue, Mar 7th, 2017 8:11:00 pm


 You know that contribution you were going to make to OCA? Now's a good time to make it!
---
Mon, Mar 6th, 2017 8:40:00 pm


A Call to Prayer! They came to curse; we've come to bless!  
---
Sat, Feb 25th, 2017 4:33:00 pm


Explaining Religious Liberty to a Whole New Generation
---
Sat, Feb 18th, 2017 10:37:00 pm


Call to Action for Ohio Pastor Protection Act, H.B. 36. Your calls are needed. 
---
Thu, Feb 16th, 2017 8:59:00 pm


Pastors:

The Ohio Pastor Protection Act will receive a hearing this coming Tuesday, February 21st at 10:30 a.m. in room 114 at the Ohio Statehouse. 
---
Sun, Feb 12th, 2017 7:00:00 pm


DEFENDING RELIGIOUS LIBERTY THIS WEEK AT THE OHIO STATEHOUSE

 
---
Sun, Feb 5th, 2017 6:39:00 pm


This Week With OCA
---
Wed, Feb 1st, 2017 7:05:00 pm


Our New Email Program - Please Note the New Sending Domain
---
Tue, Jan 31st, 2017 7:25:00 pm


An Open Letter to the Hosts of WCRF Radio Morning Show Cleveland
---
Thu, Jan 26th, 2017 6:46:00 pm


The Story of Two Large Marches in Washington D.C. A contrast of two vastly different visions for America.
On this week, News in Focus guests Mark Harrington of Created Equal and Paula Westwood of Cincinnati RTL. We discuss the Women's March and the annual MARCH FOR LIFE.
---
Fri, Jan 20th, 2017 8:15:00 am


Pray for a Peaceful Transition of the Executive Branch Today in Our Nation's Capitol
---
Mon, Jan 16th, 2017 10:07:00 pm


Ohio Pastor Protection Act to be Reintroduced in the 132nd General Assembly
---
Tue, Jan 10th, 2017 7:27:00 am


What's up on the agenda for Congress as they launch the new session. Congressman Bill Johnson reports.

Congressman Bill Johnson details  some very good news of what the republican controled congress has planed for the new session.. Part 2 Greg Quinlan from New Jersey, Garden State Families discusses continued challenges for the church after the SCOTUS decision. We also discuss the Texsas case stricking down transgender mandates. Court Strikes Down Transgender Mandate, Protecting Doctors, Children, and Hospitals
---
Sat, Dec 31st, 2016 10:15:00 am


You can help OCA with a tax deductible contribution!
---
Wed, Dec 28th, 2016 10:46:00 pm


Year In Review With Ohio Christian Alliance
---
Fri, Dec 23rd, 2016 2:30:00 pm


This just in..... Breaking News... Speaker Rosenburger has sent a notice to Ohio House Members: " If needed " Session days have been scheduled for Wednesday, December 28th and Thursday December 29th 2016" to override Governor Kasich vetoes. Stay tuned.....
---
Tue, Dec 13th, 2016 11:25:00 pm


One pro-life bill survives, another does not, the Governor's pen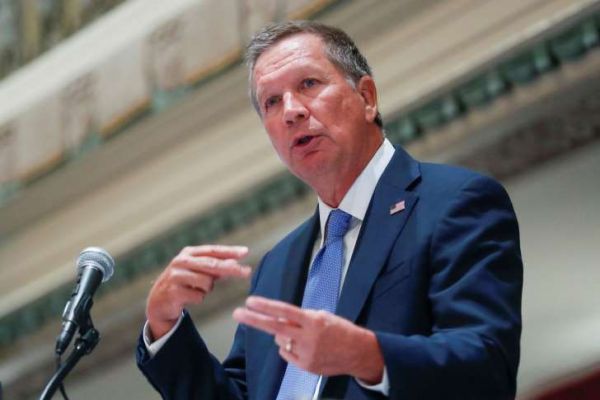 Today, two pro-life measures were placed on Governor Kasich's desk - the Pain Capable Unborn Child Protection Act (S.B. 172) and the Heartbeat Bill. The Ohio Christian Alliance supported both bills. While we are pleased that Ohio has joined other states in a 20-week abortion ban bill, we are greatly disappointed that the Heartbeat Bill was vetoed. OCA has supported the Heartbeat Bill since it was first introduced. The late Dr. Jack Willke, founder of Right to Life, stated that this legislation was needed at this time to advance the cause of life. There is discussion of a possible legislative override of the veto. If a veto override was to happen in the Ohio Legislature, it would need to be next week. Chances are slim to none of getting the entire General Assembly gathered in between the holidays. Many have already made plans for travel. There are enough votes in the Ohio Senate, and currently two votes short in the Ohio House. We will keep you updated. -OCA President Chris Long
---