Pearl Harbor Day 75th obsevance in Washington D.C.
---
Wed, Dec 7th, 2016 11:27:14 pm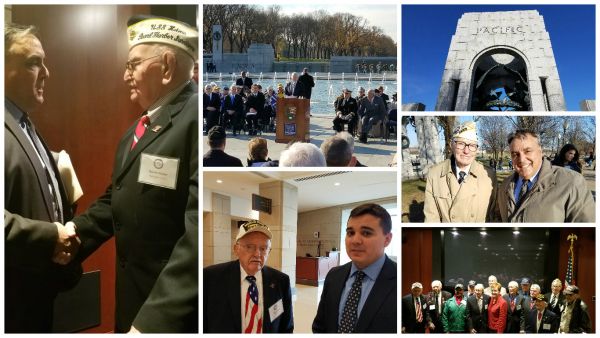 Pearl Harbor Day 75th obsevance in Washington D.C
Pearl Harbor and WWII veterans came to Capitol Hill for Congressional Prayer Breakfast at the U.S. Capitol Visitors Center with Ohio Congressman Marcy Kaptur and Friends of the WWII Memorial. Congresswoman Kaptur from Ohio's 9th District recounted the story of when a WWII veteran approached her, asking her where was the monument memorial for those who served in WWII. She remembers awkardly responding and offering several locations, each of which were inaccurate. He responding by saying, "There isn't any such memorial." That launched the effort for the WWII Memorial. It evenually passed Congress and was dedicated in 2004. On this 75th anniversary observance of the attack on Pearl Harbor, some of the remaining survivors were on hand to recount their stories of that fateful day and to share their thoughts of what we need to take from that day, ever-watchful vigilance. In their words, America was not prepared for war, and that cost many lives. These men and women are living monuments themselves that won't be with us much longer. OCA President Chris Long was on hand with his son Jonathan, an Iraq War Veteran, to thank these veterans for their service.
The observance was held at 1:00 p.m. Washington time, the time at which the attacks began in Hawaii 75 years ago. FDR's grandson was on hand to read the proclamation of war. Senator John McCain from the State of Arizona was the keynote speaker. The U.S.S. Arizona was destroyed in the battle, never to recover, and to become a permanent crypt for the some 1200 men who perished on her that day. Senator McCain's father was an Admiral in WWII, as was his grandfather. Both served extensively in the Pacific Theater of the war. His grandfather, exhausted from the war, died on the day he returned home at the close of the war. This observance was a fitting tribute to the Pearl Harbors survivors and WWII vets who served us honorably and are worhy of our respect and appreciation. Congress passed S 1044, The WWII Memorial Prayer Act, that will add FDR's D-Day Landing Prayer as a permanent tribute to those who fought and those who died, paying the ultimate sacrifice in WWII. The addition of this 500-word prayer will be a permanent tribute to their service and sacrifice.
---