URGENT ACTION ALERT - To Defend Religious liberty and to Stop HR 8404 that would do away with the federal Defense of Marriage Act and threaten religious liberty for churches, individuals, and religious organizations
---
Sun, Nov 27th, 2022 8:23:43 am
THE U.S. SENATE HAS PASSED 8404 WITHOUT THE RELIGIOUS PROTECTION AMENDMENT -UPDATE ON HR 8404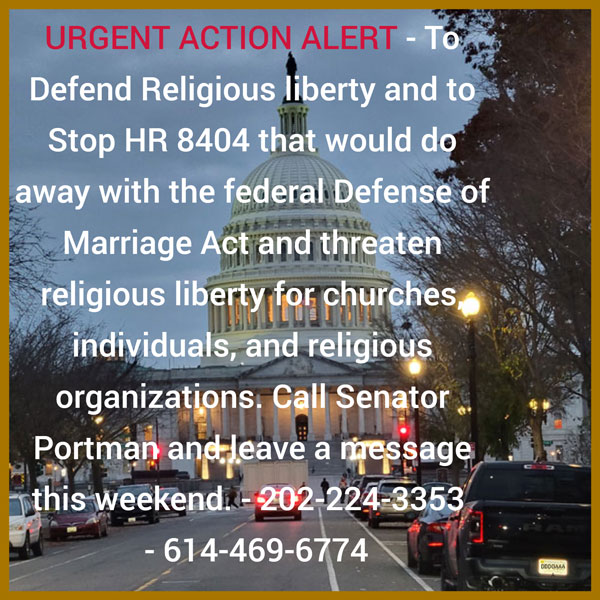 Dear Fellow Ohioan for Religious Liberty,
On Monday, the Senate will vote again on whether to advance the redefinition of marriage, and this may be our last chance to add real religious liberty protections to the bill. People of faith have been targeted by the Left for their belief that marriage is between a man and a woman; if the so-called Respect for Marriage Act bill becomes law without substantial protections, courts are likely to interpret the law as a national policy on natural marriage, equating the belief that marriage is between one man and one woman with racism. Furthermore, the bill will supercharge legal attacks by granting a private right of action to almost anyone. Currently, there are no equivalent protections in the bill.
Will you take a moment right now and ask Senator Portman to include the substantial religious liberty protections amendment being offered by Senator Mike Lee?
 A cloture vote, requiring 60 votes, is set for Monday evening. Senator Portman and 11 other Republican senators voted to advance this bill last week; if he and just two others withhold their vote for cloture Monday, they can force Democrats to add strong religious liberty protections to the bill. But he needs to hear from you.
 - This call to action was provided by the Family Research Council. The Ohio Christian Alliance is working with the FRC to defeat HR 8404 which will dismantle the 1996 Defense of Marriage Act and codify same-sex marriage into law, presenting serious threats to religious liberty for individuals, churches, and religious organizations. Tune in Tuesday to News in Focus 1220 AM Salem/Cleveland as we discuss the issue with FRC Midwest Representative Tim Throckmorton.
Here is what happened earlier this month on this bill in the U.S. Senate
The following is from Quena Gonzalez of the Family Research Council
From: Quena Gonzalez
Sent: Thursday, November 17, 2022 6:13 PM
To: Chris Long
Subject: Senator Portman voted to advance same-sex marriage. Tell him to vote FOR this strong religious liberty amendment!
Dear Mr. Long,
On Wednesday, November 16, Senator Portman and 11 other Senate Republicans voted to advance the marriage redefinition bill past a crucial procedural vote, but despite the bill's clearing that vote, all is not lost. An amendment is being offered to protect adoption and foster-care providers, thousands of religious organizations, and millions of everyday Americans from federal harassment, legal liability, and loss of tax-exempt status for their belief that marriage is between one man and one woman.
Click HERE to tell Senator Portman to support a CRITICAL religious liberty amendment to the bill!
 As we've previously warned, the (Dis)Respect for Marriage Act will go much further than Obergefell by supercharging the ongoing lawsuits against people of faith who still believe in natural marriage.
 Fortunately, Senator Mike Lee (R-UT) is introducing an amendment that would help curb the dangers of the bill in its current form. Tell Senator Portman that you want him to insist that Senator Lee's amendment is adopted!
Your calls are needed today to defend religious liberty. Click on the links and make the calls. The vote is scheduled for Monday evening.
-OCA President Chris Long
---