Year in Review With Ohio Christian Alliance
Spring Freedom Banquet with Kansas Governor Sam Brownback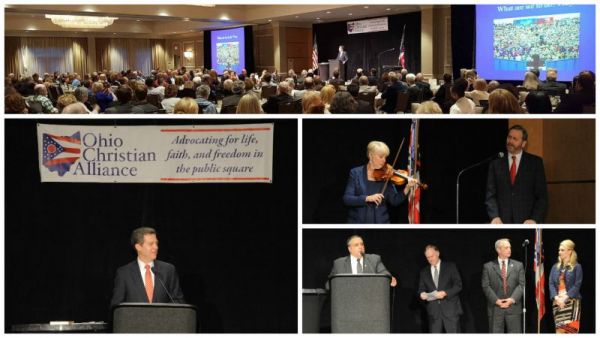 Governor Sam Brownback delivered a compelling message of Christian involvement in our culture at this most critical time. Thanks to MC Bob Burney, Auditor and Mrs. Yost, Melanie Miller, and Senate President Keith Faber. Special thanks to Governor Brownback for coming to Ohio and encouraging all of us. Because of his message we have better perspective on what we as Christians ought to do in staying the course. 
Ohio Christian Alliance Conducted Statewide Citizenship Sundays in Churches Across the State.  Pastors stepped up to register their congregations to vote. Evangelical turnout was at an all-time high.  The concern that many Christians had about the threats to religious liberty, the direction of the Supreme Court, and the future of the pro-life movement were all motivating factors that caused the church to turn out in great numbers. The OCA website received over a half million visitors in the months of October and November. The Ohio Christian Alliance Voter Guide had broad distribution throughout the State of Ohio, helping voters to understand issues and the candidates.  
New in Focus Radio Broadcast continues to grow in its outreach, with more stations being added to the network. Nationally recognized guests comprise the lineup week after week on the broadcast. Senator Rick Santorum broke news on our program one week before the November 8th Presidential Election by predicting that Pennsylvania was going for Donald J. Trump.  Other guests included John Fund of the National Review, Frank Gaffney of the Center for Security Policy, Bob Murray of Murry Energy, Pat Boone, Jim Martin of the 60 Plus Association, Governor Sam Brownback, Bill Federer, Congressman Bill Johnson, Libery Counsel's Matt Staver, and a new special feature called The Pastors Roundtable, as pastors discuss today's issues from a Biblical world view.  The News in Focus radio broadcast continues to grow in its popularity. 
Opportunities for interviews on radio stations from Ohio to Florida - OCA President Chris Long is now a regular host on TCT Christian Television.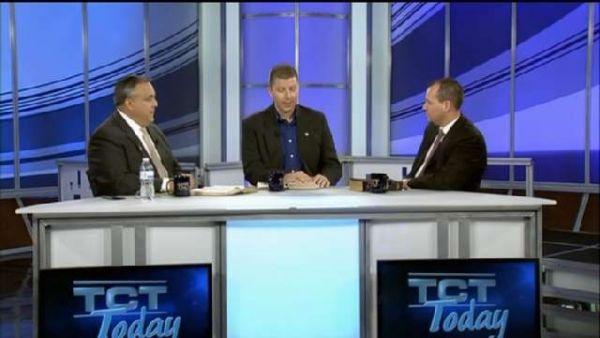 The WWII Memorial Prayer Act is approved for design concept by the National Committee on Fine Arts.  
This past fall, OCA President Chris Long attended the Fine Arts Commission committee hearing on the design concept of the WWII Memorial Prayer Act, S 1044, legislation that will add FDR's D-Day Prayer in its entirety at the WWII Memorial in Washington, D.C.  Chris Long made the following statement, "We are excited that the project has reached the next phase of construction and dedication. This prayer will be a lasting tribute to those veterans who served us in WWII and for all of our service personnel who serve our country with honor and distinction. We are delighted that God has used our organization to add this lasting tribute to the Mall at the WWII Memorial in Washington, D.C.  We look forward to its dedication service.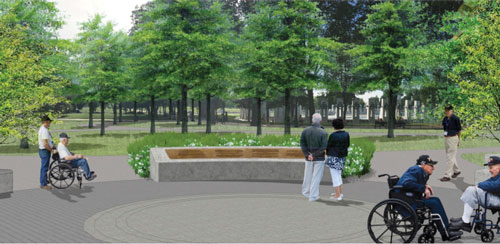 This year, Ohio Christian Alliance is celebrating its 25th year as a public policy, grassroots organization, defending life, faith and freedom in the public square.  It is an honor to serve this organization and to advance its mission. The OCA Board met in December and came to the consensus that our mission going forward must include passing on our values to the next generation. You will be hearing more about our efforts to recruit young people to participate as coordinators, advisors, and interns. 
Ohio Christian Alliance has been blessed with many successes over the years, but this is due in large part to our faithful volunteers and to the faithful contributions from people like you.  
Please consider a year-end contribution to the ongoing work of the Ohio Christian Alliance. If you would like to make a tax-deductible contribution, please make it to the OCA Ed Fund when following the links on the CONTRIBUTE button.  Thank you for your ongoing generous support.