This Week With OCA - HCR 10 Passes House;  Meetings in Washington, D.C.
The Ohio Legislature made a strong statement speaking out against anti-Semitism on Ohio college campuses by passing HCR10, the resolution that addresses the Boycott, Divestment, and Sanctions movement against Israel and condemns increasing incidents of anti-Semitism on Ohio college campuses.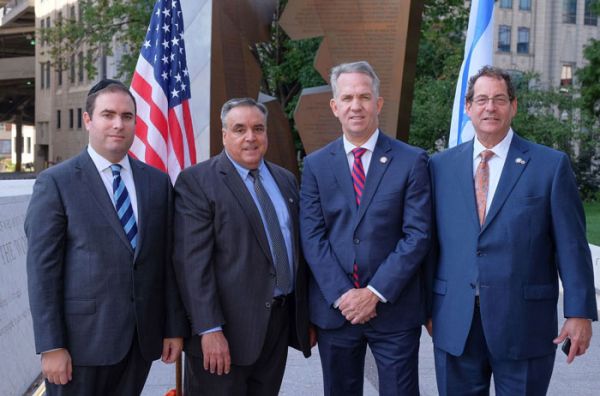 The Ohio Christian Alliance was pleased to lend its support to HCR 10, the resolution to which Representatives Andy Thompson and David Greenspan, along with 25 other co-sponsors, have signed on, a resolution to condemn the boycott, divestment, and sanctions movement against the State of Israel, and to condemn increasing incidents of anti-Semitism on Ohio college campuses.
OCA President Chris Long stated, "The recent Boycott, Divestment, and Sanctions (BDS) movement, initiated by some groups hostile to the State of Israel on college campuses in Ohio, has created an atmosphere of fear and intimidation of Jewish students, as the State of Israel has been targeted, Jews specifically. In September of this year on the eve of Yom Kippur, the most holy day on the Jewish calendar, another anti-Semitic incident took place on the campus of Ohio University in Athens, as reported by the Athens Post. Nazi swastikas were painted in the dormitories and sidewalks around the university grounds. University authorities investigated the incident.
The liberators, Ohio veterans, in whose honor the Holocaust Memorial is partly erected, and which now stands on the South Statehouse Lawn, would be ashamed to hear that this is happening again, for they were the eye witnesses of the atrocities as they liberated the concentration camps in Europe."
Representative Thompson made this statement in his floor speech today in the Ohio House in support of HCR 10, "Wherever we traveled in Israel, from the Yad Vashem Holocaust Museum to the Western Wall, from the Dead Sea to Tel Aviv, we heard about the importance of opposing the BDS movement and of the work Ohio has done to support Israel. HCR10 is another important step in that effort. HCR10 recognizes these threats not just to the nation of Israel, but also to Jewish students and others who wish to defend Israel on our college campuses."
OCA was pleased to work with Mike Goldstein of Proclaiming Justice to the Nations, Ed Douglas of Christians United for Israel, and Representatives Thompson and Greenspan for the passage of this resolution.
In Washington, D.C. on Wednesday and Thursday of This Week for Meetings on Capitol Hill and Pearl Harbor Day Observance at the WWII Memorial
OCA President Chris Long attended a policy luncheon presentation by staff of the U.S. House and Senate leadership who discussed the conference committee process on tax reform legislation. Although there are some hurdles to cross, the general consensus is that tax reform will get done by year's end and sent to the President's desk. 
On the pro-life front, there is a discussion of President Trump signing an executive order emphasizing that life begins at conception. Pro-life leaders are excited about the prospect of this proclamation by the President that will help to set a new climate supporting a culture of life in public policy. The last President to give such an executive order was Ronald Reagan 30 years ago. More to come on this. 
Pearl Harbor Day Observance at the WWII Memorial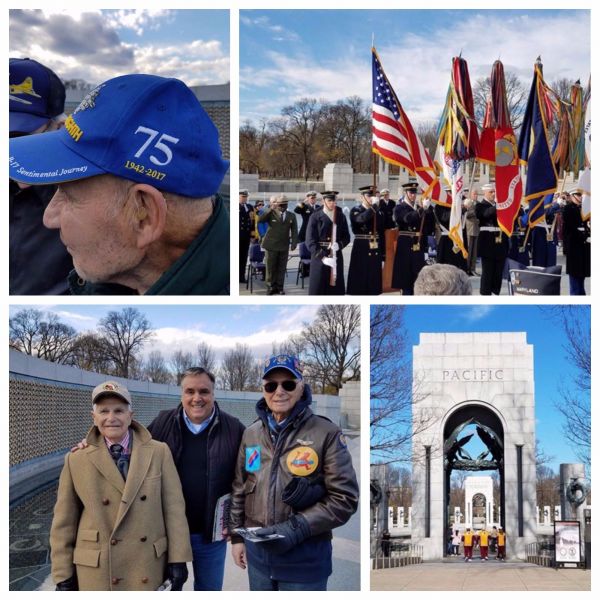 OCA President Chris Long once again attended the Pearl Harbor Day Observance at the WWII Memorial. WWII veterans, their families, dignitaries, and current military personnel were on hand to help recognize the somber occasion. Seventy-six years ago, America was slumbering with a false sense of security when the radio that Sunday crackled with the news that Pearl Harbor had been bombed in a surprise attack.  As FDR stated, "The day that shall live in infamy" continues to be a somber reminder that we need to stay constantly vigilant to secure our freedom.  
Pictured above are members of the 8th Air Force that served between '43 and '45 in combat missions over Germany. In regard to the D-Day Prayer Project, they said, "Get that prayer added!"  With God's grace and your financial support, we will complete our mission to add the D-Day Prayer in its entirety at the WWII Memorial in Washington, D.C. as a permanent reminder and tribute to the veterans who served us in WWII and for all veterans.