The Story of Two Large Marches in Washington D.C. A contrast of two vastly different visions for America.
On this week, News in Focus guests Mark Harrington of Created Equal and Paula Westwood of Cincinnati RTL. We discuss the Women's March and the annual MARCH FOR LIFE.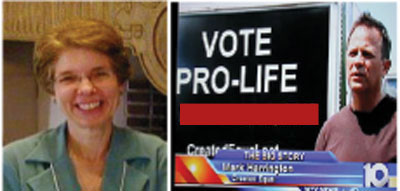 Paula Westwood, Cincinnati RTL   -   Mark Harrington, Created Equal
Paula and Mark share their perspectives on this week in Washington and what it means for the pro-life movement going forward. Immediately after the Inauguration, a Woman's March, organized by the radical left, heard chants of "Abortion is a Right".  On Friday, in complete contrast, hundreds of thousands will gather to stand for the sanctity of human life, as they have done every year on the anniversary of Roe v. Wade for over 40 years.  CLICK ON THIS LINK TO HEAR THE RADIO INTERVIEW ON THIS WEEK'S NEWS IN FOCUS
Pray for tomorrow's March for Life in Washington, D.C.  

Speakers include  Kellyanne Conway and Vice President Mike Pence. 
You can watch the live feed starting tomorrow starting at noon at marchforlife.org  
Consider a contribution to the Ohio Christian Alliance, helping us to advocate for life, faith, and freedom in the public square.