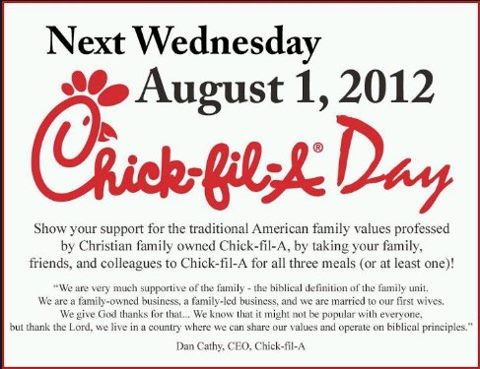 Join Us Tomorrow, Wednesday August 1st,  in Supporting Chick-fil-A in Your Local Area.  The Ohio Christian Alliance commends Chick-fil-A CEO Dan Cathy for standing for time-honored traditional biblical views on marriage.  The actions by some political officials recently to criticize the personal convictions of Dan Cathy, who stands for traditional marriage, need to be met head-on in the arena of public debate by defending those who stand for time-honored godly biblical principles as Chic-fil-A's chief executive officer Dan Cathy has.   
OCA President Chris Long made the following statement, "The Left is consistently intolerant of anyone who does not hold with their views on homosexual relationships. Homosexual marriage is a falsehood. Thirty-two states currently have constitutional amendments defining marriage as between one man and one woman. Six more states have proposals on the ballot this fall. The Left's tactic has always been to try to bring down a single target. We strongly support Chick-fil-A and their CEO for his views on traditional marriage as God intended it between one man and one woman".
We therefore encourage people of faith throughout Ohio to stop in and support their local Chic-fil-A.  It's good food and good people.  Save some waffle fries for me!