ECOT School Closure Crisis Press Conference Coverage - 12,000 Students including 2,287 Seniors Now at Risk With the Sudden Closure of Ohio's Largest Online School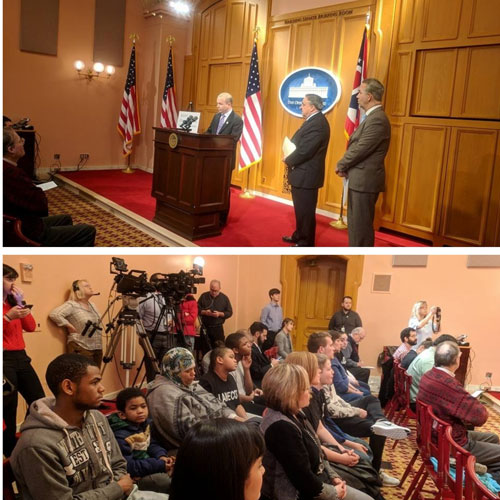 Urgent - Call Governor Kasich to re-open the school for the 12,000 ECOT students
We must have hundreds of calls pouring into the Governor's office between now and Friday. Tell your family and friends. These Ohio school children and their families need us to speak up for them so they can get back to school. If you believe in school choice in Ohio, this is a battle worth fighting. 

Call 614-466-3555
ECOT School Closure Crisis and the Fate of 12,000 Students
Ohio Statehouse
On Tuesday January 23,  State Representative Andy Thompson of Ohio's 95th District and State Representative Andy Brenner, Chairman of the House Education and Career Readiness Committee, along with other legislators, convened a press conference to address the ECOT school closure crisis which has left 12,000 students, including 2,287 seniors, without a school as of Friday, January 19. This crisis could have been averted if only the Ohio Department of Education had worked out terms for the school to continue at least until the end of the school year for the students' sake. It is obvious that the Ohio Department of Education and the State Superintendent were not prepared for this crisis. The poor planning by the ODE and the Superintendent has now put these students' education at risk.
The Superintendent and the ODE had no contingency plan in place to quickly move the 12,000 students to other schools before making this decision. ODE has stated that it has a button or link on its website and an 800 number that students and families could call. But as of Saturday, only 35 calls came into the 800 line, and providing a button on the website is grossly insufficient, and represents poor planning by the ODE and State Superintendent DeMaria.
Our call to action is for the Ohio Department of Education and the Kasich Administration to immediately reconsider a workable agreement with ECOT to get them to the end of the school year. This would provide a soft landing for the 12,000 Ohio students who are currently enrolled in Ohio's largest online school and whose education for the remainder of this year is uncertain.
Immediately following the press conference, OCA President Chris Long and OCA board member Rev. Al Davis submitted a personal letter to Governor Kasich, urging him to bring the two parties together - ECOT officials and the Ohio Department of Education - to put together a working solution so that the school can remain open at least until the end of the school year, for the sake of the 12,000 students and the 2,287 seniors.