Thanks to all who helped to make this year's Freedom Banquet a big success!
Honoring our veterans with the D-Day Landing Prayer Act Project (WWII Memorial Prayer Act).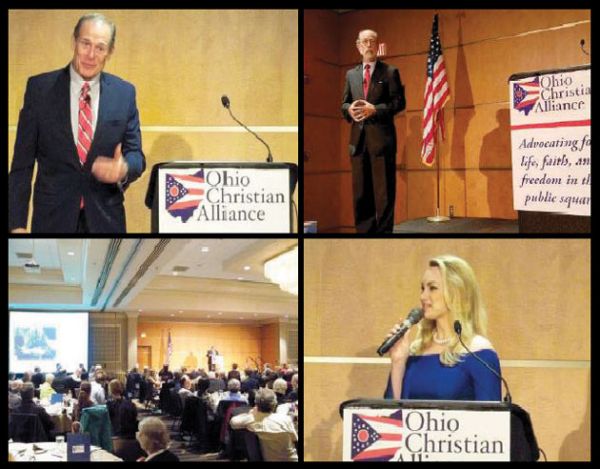 Click on the pictures to see the photo album from this year's Freedom Banquet
Thank you to our event sponsors and table sponsors!
Spring Freedom Banquet May 25, 2017. This year, honoring our veterans with the D-Day Landing Prayer Project. OCA President Chris Long presented the fundraising, construction and dedication phase which has begun on a 12-month calendar. The $600,000 upgrade to the WWII Memorial Monument for the Prayer's placement at the Circle of Remembrance will not be paid for by tax dollars but by private contributions from you and me. If we stay on schedule, the dedication will be June of 2018. This year's speakers included author and historian Bill Federer from the American Minute who gave an address from the notes of his book, "Prayers and Presidents" and Frank Gaffney from the Center for Security Policy who delivered a national security briefing to the attendees. Funds were collected through the OCA Ed Fund for the D-Day Prayer's construction. You can make a contribution today by clicking back on our main page, following the links - choose the Prayer Project link - and make a fully tax-deductible contribution to add FDR's D-Day Landing Prayer in its entirety at the WWII Memorial in Washington, D.C.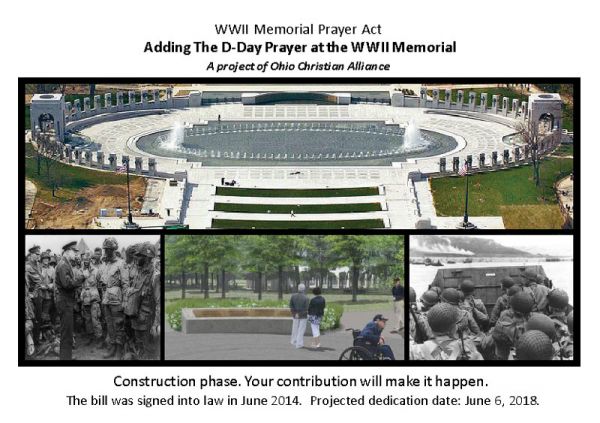 We will be collecting contributions now through October 1st for the construction and placement of the D-Day Prayer at the WWII Memorial in Washington, D.C.  Soon, a video presentation will be available for churches and community groups to make an appeal for those who would like to contribute to the project of adding FDR's D-Day Prayer at the WWII Memorial in Washington, D.C.  Contact the office of the Ohio Christian Alliance for more information at 330-887-1922 or you can email at this link if you would like OCA President Chris Long to make a presentation at your church.  
Contributions to the OCA Ed Fund are fully tax-deductible.  Click on the link  "Prayer Project" for your contribution to be added to the list to add the D-Day Prayer on the Mall in Washington, D.C. at the WWII Memorial.