Christmas in Washington, D.C. This Year!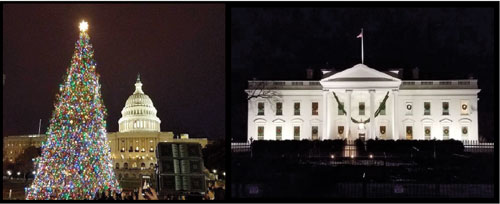 Lighting of the Capitol Christmas Tree. 
This year, the good people of Montana provided this year's Capitol Christmas tree, an 80-foot Engelmann spruce from the Kootenai National Forest in Montana.  The tree arrived at the Capitol on November 27, 2017. Once it was secured to the ground, it was decorated with thousands of ornaments. The tree will be lit from nightfall until 11 p.m. each evening through January 1, 2018. 
The U.S. Capitol Christmas Tree dates back to 1964 when Architect of the Capitol J. George Steward, at the suggestion of Speaker of the House John W. McCormack, established the yearly tradition of decorating a tree on the West Front Lawn.  Since 1970, the U.S. Department of Agriculture Forest Service has provided the trees. 
OCA President Chris Long was honored to be on hand for this year's tree lighting. The young man who lit the tree was 11-yr-old Ridley from Montana who, this past summer, lost the fingers on his right hand in an accident. He is a competitive swimmer and hunter,  likes fishing, skiing, playing soccer, reading and playing the cello.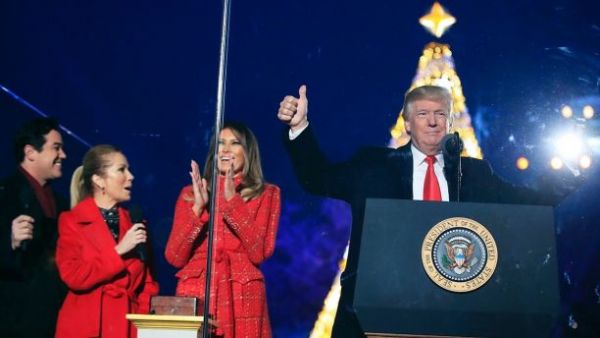 Click on the picture for the video
President Trump's Christmas Message! MERRY CHRISTMAS!
President Trump stated, "Finally, in 1870, President Ulysses S. Grant signed legislation making
Christmas a Federal holiday. And I sort of feel we are doing that again. That's
what's happening."
For unto us a child is born, unto us a son is given: and the government shall be upon his shoulder: and his name shall be called Wonderful, Counsellor, The mighty God, The everlasting Father, The Prince of Peace.
Of the increase of his government and peace there shall be no end, upon the throne of David, and upon his kingdom, to order it, and to establish it with judgment and with justice from henceforth even for ever. The zeal of the LORD of hosts will perform this. Isaiah 9:6 & 7